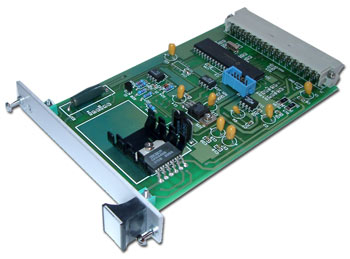 COMMON FEATURES OF THE ANALOGUE I/O CARD FAMILY
Analogue Input & Output Cards, capable of reading or generating voltage levels from 0 to 18 Volts
DIN 41612 standard Eurocard connector (48 pins)
Standard Eurocard width - 4HP (card width = 20.32mm).
Standard Eurocard format - 3U (pcb board size = 100mm x 160mm. Card size overall = 128mm x 175mm).
Can be controlled from a PC using Plant Link S.L. PC Interface Cards such as PL-RS232, PL-USB or PL-Parallel Port
Designed & manufactured by Plant Link S.L.
Compatible with all cards in the Plant Link Eurocard range.
Employs Plant Link Test Language for control.
Drivers available for: LabVIEW, LabWindows/CVI, Visual Basic, Visual C++
Cards can be extracted from the front of the equipment for inspection or replacement.
Internal microcontroller to perform card functions, diagnostics and communicate with other cards in the Eurocard system.

PL-AI16
Analogue Input Card - 16 channels
16 analogue input channels
Voltages on any input line can be measured to an accuracy of = +/- 0.05
Minimum / maximum voltage range on any input = +0.0 to 18.0 Volts
PL-AO01
Analogue Output Card
Single analogue output line
Output voltage range = +0.0 to +18.0 Volts
maximum output current = 400mA.
PL-AI16-CAN
Analogue Input Card - 16 channels
16 analogue input channels
Voltages on any input line can be measured to an accuracy of = +/- 0.05
Minimum / maximum voltage range on any input = +0.0 to 18.0 Volts
This card can be controlled using any CAN communication device
PL-AO01-CAN
Analogue Output Card
Single analogue output line
Output voltage range = +0.0 to +18.0 Volts
Maximum output current = 400mA.
This card can be controlled using any CAN communication device