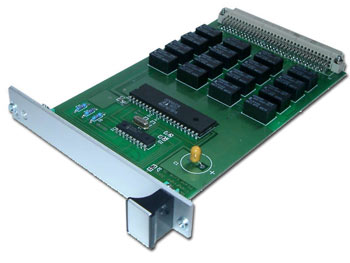 COMMON FEATURES OF THE RELAY CARD FAMILY
General purpose relay switch matrixes for multiplexing signals, connecting and disconecting loads, etc
Standard Eurocard width - 4HP (card width = 20.32mm).
Standard Eurocard format - 3U (pcb board size = 100mm x 160mm. Card size overall = 128mm x 175mm).
Can be controlled from a PC using Plant Link S.L. PC Interface Cards such as PL-RS232, PL-USB or PL-Parallel Port
Designed & manufactured by Plant Link S.L.
Compatible with all cards in the Plant Link Eurocard range.
Employs Plant Link Test Language for control.
Drivers available for: LabVIEW, LabWindows/CVI, Visual Basic, Visual C++
Cards can be extracted from the front of the equipment for inspection or replacement.
Internal microcontroller to perform card functions, diagnostics and communicate with other cards in the Eurocard system.
PL-1203A
Relay Card - 12 lines to three states
Connects 12 lines to two lines, or each line can be open (not connected)
Up to 6 Amps per line (pin)
Ideal for connecting and disconnecting loads to three different states such as Ground, Power and Not Connected
DIN 41612 standard Eurocard connector (48 pins)
PL-1632A
Relay Card - 16 line to 32 line multiplexer
Connects 16 lines to 32 lines
Up to 1 Amp per line (pin)
Ideal for multiplexing analogue signals
DIN 41612 standard Eurocard connector (96 pins)
PL-1203A-CAN
Relay Card - 12 lines to three states
Connects 12 lines to two lines, or each line can be open (not connected)
Up to 6 Amps per line (pin)
Ideal for connecting and disconnecting loads to three different states such as Ground, Power and Not Connected
DIN 41612 standard Eurocard connector (48 pins)
This card can be controlled using any CAN communication device
PL-1632A-CAN
Relay Card - 16 line to 32 line multiplexer
Connects 16 lines to 32 lines
Up to 1 Amp per line (pin)
Ideal for multiplexing analogue signals
DIN 41612 standard Eurocard connector (96 pins)
This card can be controlled using any CAN communication device